At Brunswick Dentist
We Won't Get On Your Nerves
Brunswick Dentist is a local community focused clinic providing relaxed, personalised and professional dental services from teeth cleaning to emergency dental work. We are one of a handful of Nationally Accredited dental clinics in Australia.
Our philosophy is one that promotes optimal oral hygiene which can sustain a healthy mouth for life with minimal intervention by us. We can also provide comprehensive, aesthetic and current evidence-based dental care when required, in all facets of dentistry.
We are also a family dental clinic, here to provide aid for parents to educate and establish sound oral hygiene habits for their children. This is reflected in our participation in the CDBS (Child Dental Benefits Scheme funded by Medicare), through our volunteering at local childcare centres and schools, and finally the provision of free consultations for children under five.
Discounted Oral Examination, Teeth Clean and Polish
This offer is limited to new patients only. The offer only provides a discount for the Comprehensive Oral Examination, Clean and Polish.*
*Offer Details: As part of the Comprehensive Oral Examination, other dental issues may be observed by the dentist or noted by yourself and at the conclusion of the consultation, the dentist will discuss their findings with you and you can determine if you wish to proceed with any additional work outside the services included in this offer. Any additional services would be charged at the standard schedule rate for the Brunswick Dentist practice. Patients who have dental health insurance with HCF will not have any gap fees for examinations, cleans and x-Rays as part of our agreement with HCF.
Our Services
A full range of dental services
Preventative and restorative dentistry that is needed by people of all ages, from early childhood interventions fissure sealants, fillings, cleaning and addressing any complex medical issues in the context of your oral health.
Comprehensive services, over multiple visits such as Full Mouth Rehabilitation, to restore back to health peoples broken down dentition. It utilises ceramic crowns, veneers and dental implants to change your smile for the best, long term aesthetic and functional result that is achievable.
Sleep Dentistry is performed at the Brunswick Dentist clinic and is administered by a certified anaesthetist who comes in for the procedures. You be asleep during the procedure and wont feel anything.
Meet Our Dentists
Our Team Of Professionals
Dr Michael Togias
B.D.Sc. (Melb), B.Sc. (Melb)
Dr Michael Togias
B.D.Sc. (Melb), B.Sc. (Melb)
Finishing a Bachelor of Science in 1990, Michael went on to complete his Bachelor of Dental Science in 1994. After a 12 month intern program at the Goulburn Valley Hospital and Bendigo Base Hospital, Michael worked as an associate dentist in Footscray for 10 years. During that time, he established Brunswick Dentist in September 2000.
Michael is registered with AHPRA and an active member of the ADA. He has a special interest in endodontics and full mouth rehabilitation. He enjoys all facets of dentistry particularly helping to taking the trauma out of introducing young children to dental experiences.
Michael also takes time to routinely volunteer his time with the generous support of his staff, who also volunteer their time, to the National Dental Foundation providing much needed dental care to the homeless and under privileged members of the Australian society.
Outside of dentistry, Michael loves travelling with his wife, especially to broaden their epicurean experiences. He also enjoys cycling and the arts.
Dr Falen D'Cruz
B.D.Sc. (Melb)
Dr Falen D'Cruz
B.D.Sc. (Melb)
Falen completed a Bachelor of Dental Science with Honours at the University of Melbourne in 2006. She worked in Ballarat for a year and has been with the Brunswick Dentist since 2007. Falen has served on two committees of the ADAVB, the Recent Graduates Committee and the Australian Periodontal Society Victoria branch and had roles as the chair and secretary on the committee.
Falen likes to see the overall health and well-being of each patient and aims to instil sound preventive care and education of each patient so they can maintain a healthy oral environment for the long-term. When providing conservative dental treatment she will try to explain the causes of the findings and go through all the treatment options. Falen is passionate about community building efforts and has volunteered on a few projects overseas. She travels to Zambia often as it is where she grew up and would like to be involved in more community based projects in developing countries.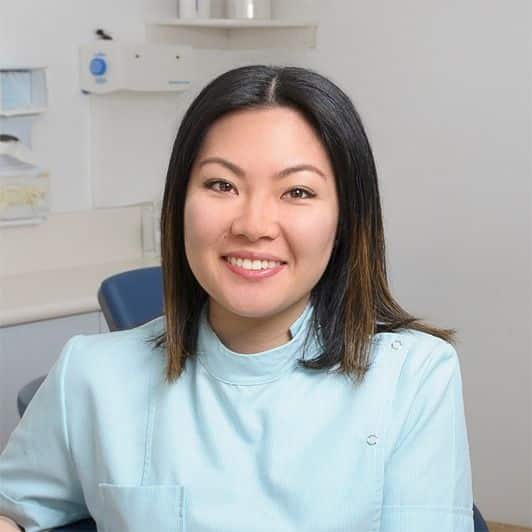 Dr Olivia Jom
B.D.Sc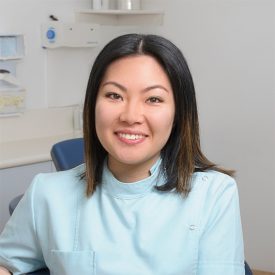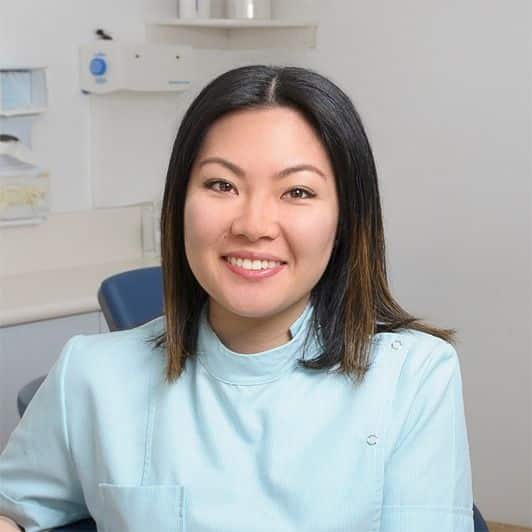 Olivia completed a Bachelor of Health Sciences in Dentistry and a Masters of Dentistry at La Trobe University in 2014.
She has since worked in East Bentleigh, Berwick and Pakenham in both the public sector and in private practice.
She is a member of the ADA and has been involved in a number of outreach community programs with less privileged members of the community as well as children with special needs.
From her experience in treating a broad range of patients, Olivia has a particularly strong interest in preventative dentistry and promoting oral health within the community.
Olivia's gentle and calm nature creates a relaxed dental environment for her patients, particular young children and those who are anxious. She takes her time to educate her patients, informing them of their dental needs and ensuring they understand their treatment plan and options.
She enjoys all aspects of general and aesthetic dentistry and particularly enjoys working with families.
Outside of dentistry, Olivia enjoys baking, travelling and spending time with family and friends.