We Can Handle the Tooth!
Our goal is to create a new overall experience when going to the dentist – one that you even look forward to at your next visit! We have an amazing team of dental professionals that care deeply about what they do and the people they serve.
Fast, efficient and comprehensive service
Friendly and non threatening environment.
Modern clinic with all the latest equipment.
Over 20 years experience.
In the heart of hip Brunswick!
Our Dentists
Dr Michael Togias
B.D.Sc. (Melb), B.Sc. (Melb)
Dr Michael Togias
B.D.Sc. (Melb), B.Sc. (Melb)
Finishing a Bachelor of Science in 1990, Michael went on to complete his Bachelor of Dental Science in 1994. After a 12 month intern program at the Goulburn Valley Hospital and Bendigo Base Hospital, Michael worked as an associate dentist in Footscray for 10 years. During that time, he established Brunswick Dentist in September 2000.
Michael is registered with AHPRA and an active member of the ADA. He has a special interest in endodontics and full mouth rehabilitation. He enjoys all facets of dentistry particularly helping to taking the trauma out of introducing young children to dental experiences.
Michael also takes time to routinely volunteer his time with the generous support of his staff, who also volunteer their time, to the National Dental Foundation providing much needed dental care to the homeless and under privileged members of the Australian society.
Outside of dentistry, Michael loves travelling with his wife, especially to broaden their epicurean experiences. He also enjoys cycling and the arts.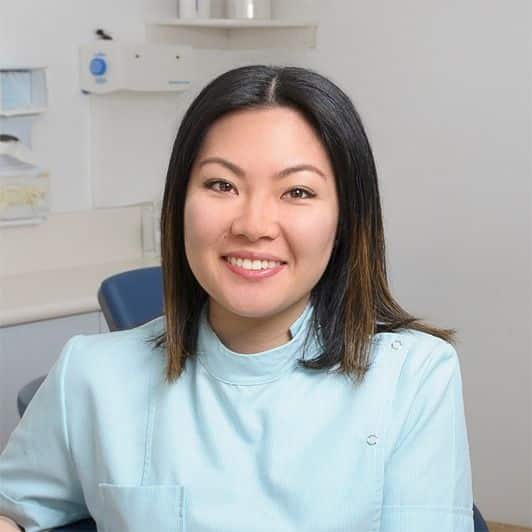 Dr Olivia Jom
B.D.Sc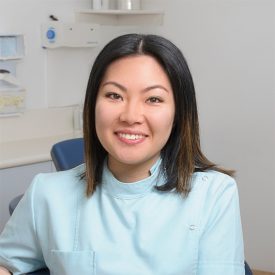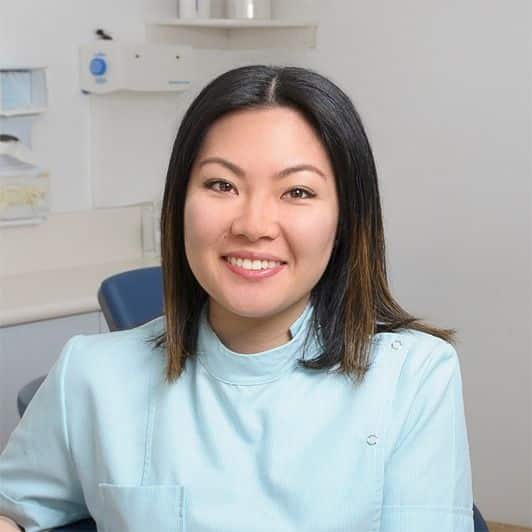 Olivia completed a Bachelor of Health Sciences in Dentistry and a Masters of Dentistry at La Trobe University in 2014.
She has since worked in East Bentleigh, Berwick and Pakenham in both the public sector and in private practice.
She is a member of the ADA and has been involved in a number of outreach community programs with less privileged members of the community as well as children with special needs.
From her experience in treating a broad range of patients, Olivia has a particularly strong interest in preventative dentistry and promoting oral health within the community.
Olivia's gentle and calm nature creates a relaxed dental environment for her patients, particular young children and those who are anxious. She takes her time to educate her patients, informing them of their dental needs and ensuring they understand their treatment plan and options.
She enjoys all aspects of general and aesthetic dentistry and particularly enjoys working with families.
Outside of dentistry, Olivia enjoys baking, travelling and spending time with family and friends.
Dr Berenice Cheng
B.D.Sc. (Melb)
Dr Berenice Cheng
B.D.Sc. (Melb)
Berenice completed a Bachelor of Dental Science with Honours at the University of Melbourne in 2013. Following graduation, she worked in Wonthaggi and Western Melbourne before joining Brunswick Dentist this year. She is an active member of the ADA, clinical-based research projects with the eviDent Foundation and is committed to regular continuing education to keep herself updated with the latest techniques and materials.
She enjoys many different aspects of dentistry and a focus on holistic health – where good dental health is an integral part of overall well being. For that reason, Berenice takes the time to explain possible treatment options and works in partnership with her patients to customise a plan they are comfortable with. Her gentle, happy disposition particularly endears her to children and she enjoys making their early dental experiences pleasant and relaxed. Berenice is passionate about dental and international aid, having previously lead multiple teams in such efforts. Outside of dentistry, Berenice is a keen traveller and relaxes by spending time with family and friends.
We can't do this on our own. Our highly dedicated and professional support staff are a vital part of the fabric of Brunswick Dentist, helping us to provide a relaxed, memorable and caring experience. They will endeavour to ensure all your needs are met whilst respecting your privacy. Our high staff retention rate means that you will always be remembered. They are also partial to chocolate inducements.